GMH Tower LS is designed for storage of long span material like rods, bars and profiles. The Tower LS can be designed as a Double or Multi Tower.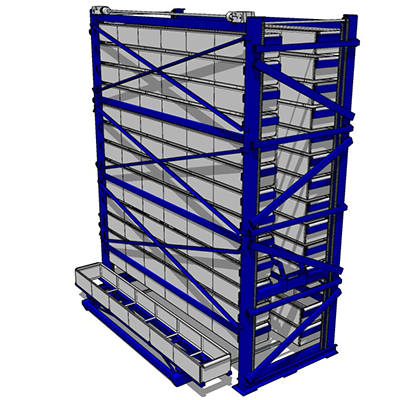 The GMH Tower LS offers customized layout and height, and has a very robust welded structure, adjusted for vertical storage of individual handling units. The Double Tower is adapted for storage of individual loading units in two towers (columns) facing each other. The Multi Tower is a combination of Double Towers. Containers (loading units) are welded structures, dimensioned according to the most common shipping formats and weights of metal profiles, bars and tubes.
The extractor, which is part of the lift transfers the loading unit from/to storage locations in both towers; the lift moves the loading unit vertically from/to the operator area. The mobile trolley has been designed to ensure that container and material are moved to a defined distance from the device.
Handling of packages and individual bars is usually carried out by crane with belt or magnet. If you need to handle entire packages by forklift, the system can optionally be equipped by with material lifting system in the operator area.
The Double and Multi Tower system can be fitted with more operator areas, either at front, at back and/or on the side of the machine (depending on tower design).


Types of containers
| | |
| --- | --- |
| | Standard container with beams |
| | Container with side cover |
| | Container with side and bottom cover |
| | Container with optional accessories – dividers |

General information on GMH Tower LS
Double Tower
Container payload [t]: 1,5 / 3 / 5
Material dimension [mm]: Max. width 1200, Max. length 12000
Max. machine height [m]: 12
Operator area type: Front with trolley. Optional: back/side
Material lifting: Optional
Module Control SW: Recommended
Loading cells: Optional
Multi Tower
Container payload [t]: 1,5 / 3 / 5
Material dimension [mm]: Max. width 1200, Max. length 12000
Max. machine height [m]: 12
Operator area type: Front with trolley. Optional: back/side
Material lifting: Optional
Module Control SW: Necessary
Loading cells: Optional