The Tornado Lift System is a dynamic storage system which moves vertically and delivers the required goods on a tray directly to the operator, either by pushing a button or scanning a barcode. The Tornado offers maximum storage capacity on minimum floor space and fast access to the goods.
The modular design of the system enables a variety of machine widths and heights, it can be customised to meet nearly every requirement. The simple structure makes this storage system reliable and low-maintenance. It requires almost 75% less floor space compared to conventional storage solutions and can operate as a stand-alone system or as a multi-unit installation.
An intelligent control system can locate the most active trays as close as possible to the access opening for efficient picking. The Tornado Lift systems operates using our TCPlus software. This Windows based platform can be easily linked with your existing WMS or ERP system so that the Machine becomes an extension of your network.
Tornado UHD
The TORNADO UHD model uses a totally new way to determine independent safety zones inside the machine. The new roller guided compact load handling device, enables higher dynamic motion and tray switching at the opening without the need of an inner door.
The fast tray switching and two tray locations at the picking opening make Tornado UHD an ideal solution when it comes to reduced picking time and space saving.

Double Tornado duplicates capacity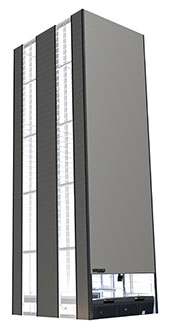 The Tornado´s storage capacity can be doubled by integrating two standard Tornados into one unit – Tornado DT.
Just like a standard Tornado, a batch picking system can be connected to a Tornado DT. This allows you to double your capacity but operate the machine as a single unit. By doing this you can further speed up picking times and minimise errors.
You find more information about Double Tornado here.

With a Tornado you get following benefits:
Up to 75% savings in floor space whilst providing the same storage capacity
Can be used as a lift between different warehouse levels and/or floors with multiple access openings
Guarantee fast, efficient and accurate order performance
Ergonomic operation through "Goods to person" principle
Reduce operators' manual transport routes to a minimum, reduction in picking times
Reduce picking errors
Password-protected access levels for added security
Minimise order throughput times
Possibility to access your machine remotely to provide support and guidance
Window-based WMS system allows easy integration into existing IT environment
Technical information
All systems are customized to the site requirements where they will be used.
Standard Dimensions:

Total height: 4 to 15 m
Tray width: 2500 to 4250 mm
Tray depth: 620 and 820 mm
Tray load capacity: 300 / 500 kg
Height of stored goods: up to 850 mm
Vertical travel speed: up to 2.2 m/s
Storage and retrieval speed: up to 1.2 m/s
Total load capacity: 40 / 60 t
Electricity 400 VAC, 16 A
Motor output: 5.5 kW


Tornado has been awarded the Key Flag Symbol. It demonstrates that the product has been manufactured in Finland. The right to use Key Flag Symbol is awarded by the Key Flag Symbol Committee upon application for a term of three years.