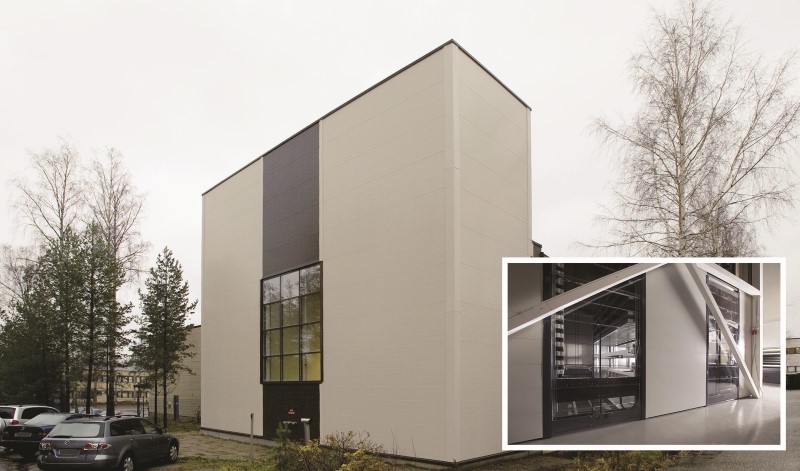 The Double Tornado maximises storage capacity and multiplies the picking speed. It offers the capacity of two machines but with only one picking hatch.
The Tornado DT's storage capacity has been doubled by integrating two standard Tornado units into one machine entity. Thanks to its ingenious lifting devices and transfer tables, the servo-operated Tornado automated storage system is fast, energy-efficient and silent.
The Tornado DT utilises the full height of the storage space, and it can be manufactured up to 15 metres tall. In comparison with conventional shelves, it arranges the stored goods to take only a tenth of the floor space.
Orderly and clean products
The automated storage system is a closed and secure storage solution for valuable and sensitive items. The products are protected from dirt and dust. Between two automatic systems, the Tornado DT features transfer tables that transfer the trays of the furthermost Tornado to the pick opening. As the operator collects the goods, the system is already retrieving a new tray.
The Tornado DT offers a multitude of benefits:
More goods fit in the same space, with up to a tenfold increase in floor space
Picking is efficient and fast: up to 70% reduction in picking times
The system reduces picking errors
Operation is ergonomic with automatic delivery of trays to optimal working level
The system prevents unauthorised use and reduces losses
The products stay clean and orderly
The Tornado DT efficiently utilises the full storage space height



Technical data Standard dimensions:
Total height: max. 15 m
Tray width: 2500 to 4250 mm
Tray depth: 620 and 820 mm
Tray load capacity: 300 / 500 kg
Load height: up to 850 mm
Total load capacity: 80t /120t
Vertical travel speed: up to 2.2 m/s
Pallet change time as low as 15 s
Electricity: 3x400 VAC, 16A
Motor output: 5.5 kW