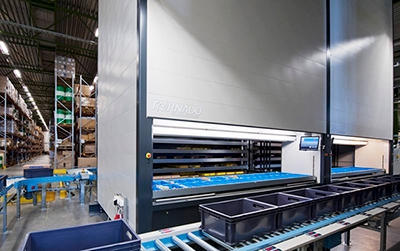 Now they are back with the latest model which has a number of new features that make it even more valuable for companies wanting to save time and money on their logistics.
For the 2017 event, we're expecting even more people to visit the stand to see just how versatile this automated retrieval system can be, even for the smallest items.
Pick your own Formula 1 car to take home
Visitors will be invited to have a go themselves at picking goods, including a miniature Formula 1 car model which they get to keep.
Numbers are limited so if you would like to try your hand during the exhibition, come early.
"The Constructor Tornado Storage Machine is automation at its best. It uses the goods- to- people principle which has been proven to improve picking rates by up 65% whilst saving up to 75% on floor space. Visitors will be able to see for themselves just how effective automatic storage retrieval is, try it out and discuss their own requirements with industry experts," said Marcello Fazio, MD, Italift.
MECSPE 2017: in brief
Event: MECSPE 2017 Technologies for Innovation- Industries 4.0
Venue: Parma Fairground, PARMA - Italy
Dates: 23 – 25 March 2017
About the Exhibition: www.mecspe.com/en/visitare/
About Italift: Italift is a Constructor Group authorized dealer in Italy and Switzerland.
About the Tornado
About Constructor Group: Constructor Group which has many years of experience providing storage solutions for a wide range of industries throughout Europe. www.constructor-group.com