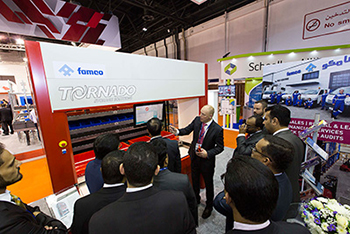 The booth has attracted much interest, particularly in the Tornado Lift Machine which is made for fast & accurate picking, while delegates have also expressed strong interest in MOVO for heavy duty warehouse applications.
During the exhibition, both are demonstrated live to enable visitors the opportunity to fully understand their solution potential. For both Framco and Constructor the exhibition has been a great success.
Our Boot: Hall 8, Stand # MH1012
Name of show: Materials Handling Middle East
Show Dates: September 14 – 16, 2015
Show Location: Dubai world trade center, Dubai
Show organizer: Messe Frankfurt Middle East GmBH
Show Hours: 10:00 am - 6:00 pm
Website: www.materialshandlingme.com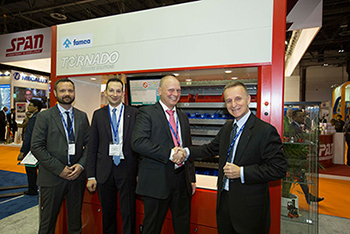 Delegates have the opportunity to discuss with Constructor Group and FAMCO latest solutions and participate in demonstrations of the TORNADO Vertical Lift Module and MOVO mobile racking system among other products in the range.
With efficiency, speed, safety, and low maintenance; TORNADO and MOVO prove to be storage solutions of choice for Aerospace, Government, Transportation, Manufacturing and Warehousing. TORNADO and MOVO are easily integrated with existing Warehouse Management Systems (WMS) and can also be used as standalone systems.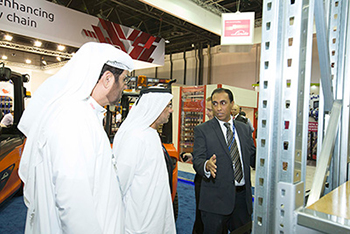 FAMCO is the largest equipment company in Middle East and Africa with Material Handling as one of its industry verticals. FAMCO's Material Handling Solutions can be found in a majority of the industrialized projects across the region. 20% of all warehouses are built using FAMCO.
FAMCO's industry verticals include heavy vehicles and machinery including trucks, buses, construction machinery, marine engines, air compressors and diesel generators which are distributed using over 30 brands in over 10 countries.
Visit us at Materials Handling Middle East 2015 Booth Hall 8, Stand # MH1012 to see the TORNADO and MOVO.